Why Our Customers Believe in Shut It® Hinges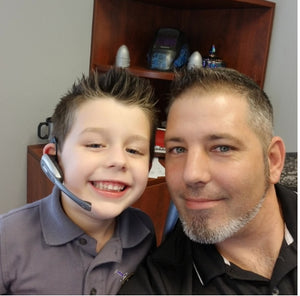 At D&D Technologies, reliable, rust-free safety gate hinges are what we became famous for - and our line of Shut It® heavy duty metal gate hinges take things up a notch.
What makes Shut It® hinges better than the rest? For starters, our gate hinges require no greasing, no maintenance ever, period. Our hinges are horizontally adjustable for perfect installations.  Our gate hinges are guaranteed to last a lifetime, and have been tested to over 1 million open/close cycles. And last but not least, Shut It® hinges feature sturdy, high-temperature sealed bearings, making them safe to powder coat, making it easier than ever to customize your gate hardware to the look and style you want.
We believe in our Shut It® hinges - and our customers do too. Check out what our customer Chris H. had to say about his experience with the Shut It® line: 
"At Eagle Fence Distributing LLC, we specialize in access control and custom iron gates - and we use Shut It® gate hinges exclusively. No other hinges open a gate as smoothly, and the finish is always first-rate. For the past 21 years, we've installed thousands of Shut It® hinges and there's not a hinge that comes close to Shut It's performance. I don't care if it's a 4x10 chain link gate that weighs 50 lb, or a 12' tall 1,500 lb gate that we have to get a crane to hang. If it has access control of any kind, it gets Shut It® hinges."
"The quality of other hinges just doesn't measure up to Shut It®. Knowing you won't have a callback with Shut It® hinges is priceless in this business. There's no other hinge on the planet that can take the punishment a Shut It® hinge can take and still keep on working. I always use Shut It® gate hinges because I believe in them."
Learn more about Shut It® gate hinges by visiting the Shut It® product page.