Why is the MagnaLatch® the world's most trusted gate latch?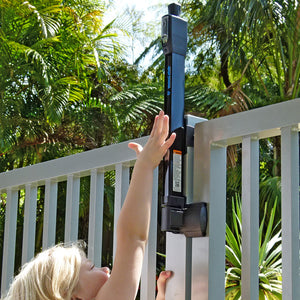 Hungtington-Beach-based design and manufacturing company, D&D Technologies, invented magnetic gate latches and polymer safety gate hinges in the 1990s. The owners of the business at the time devised the MagnaLatch® Child Safety Gate Latch in response to the poor choice of unreliable, mechanical gate latches of the day.
Today, Australian-made MagnaLatch® dominates the child safety and swimming pool gate latching and locking arena, with the product being the No. 1 choice of fencing professionals worldwide. The company's award-winning TruClose® Child Safety Gate Hinges are held in similarly high regard when it comes to reliable and rust-free (polymer) self-closing safety gate solutions.
"Although we've been the world's leading gate hardware innovator for 32 years" says D&D's President, David Calabria, "we still feel like the fresh-thinking, new-ideas guys we've always been."
The team at D&D is ever-mindful of its status as the world's most trusted gate hardware manufacturer. It's an attitude and passion to innovation and quality that runs from upper management down to factory floor. With their products instrumental in saving countless children's lives for the past 30 years, everyone involved knows and appreciates the worth and importance of manufacturing care and attention to detail. Everyone within the company is a self-declared life saver.
Being the industry leader, D&D Technologies has copped its fair share of product imitators and knock-offs over the years, but when it comes to protecting toddlers from drowning in backyard pools D&D is determined to protect its turf. The overriding issue that motivates the team is the fact drownings in backyard pools is still the No. 1 or 2 cause of accidental death in children under five in many developed countries. Having worked tirelessly with safety organisations worldwide to reduce toddler drownings over the years (that's another story) it's little wonder D&D also pushes the saying "MagnaLatch® – because you can't turn your back for a second!"
Says David Calabria "We've seen lots of cheap copies, even counterfeit product, over the years. I believe none has ever been up to standard because they're all made in suspect factories overseas and nearly all of them try to cut corners to be made cheaply. They think it's the only way they can cut into our devoted customer base.

"Offshore manufacturing is not something we've ever considered because by producing in cheap-labour countries we can't control the quality of every latch, as we currently do under the demands of our ISO-9001 Quality Assurance accreditation.

"We test the power of every magnet we use. We batch-test all our latch housing materials, our locks, our stainless-steel bolts and screws. We inspect every latch, lock and hinge like it's our first, and our last, because it's the only way we can maintain our standing and reputation as the global industry leader."
David Calabria attributes this philosophy to the fact D&D has never had a product recall in 32 years, and apparently that's not something most of its competitors can claim. He says some of would-be pretenders in recent times have produced products to look "bigger and stronger" than MagnaLatch® but D&D's testing shows they're internally flawed and don't stand up to tough, everyday use and abuse.
D&D's incessant message to the fencing trade is "Why would you risk children's lives, not to mention your business or the cost of product callbacks, for the sake of saving a few dollars?" It doesn't make sense to offer a pool or house fence worth thousands of dollars and then try to save $5 on a gate latch or pair of self-closing hinges.
There's a reason why D&D Technologies' company tagline is "The world's most trusted gate hardware." Everything they do is based on the end-user's perception of trust, safety, quality and innovation.
Check out our complete range of gate latches, locks and hinges at www.ddtech.com.