Secure Your Pool with the Best Gate Hardware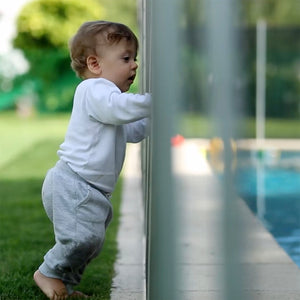 A swimming pool can be an enjoyable addition to a home, providing a refreshing way to cool off during hot summer days. However, owning a pool also comes with a responsibility to ensure the safety of children and pets. One of the essential features for any pool is a safety gate, which helps to prevent unauthorized access to the pool area.
When choosing the hardware for a pool or safety gate, there are several factors to consider that ensure the best protection for loved ones. The following are several key features to look for or ask your contractor to consider.

Self-closing mechanism: The best safety gates have self-closing hinges installed, which automatically close the gate behind someone who has passed through it. This feature is particularly important when children are around because they may forget to close the gate behind them. The hinges should be adjustable after installation to allow for gate movement and allow fine-tuning of the closing tension.
Self-latching mechanism: A self-latching mechanism is another essential feature of a pool safety gate latch. This mechanism ensures that the gate remains closed and latched until someone deliberately opens it. This feature is particularly important for preventing young children from opening the gate on their own. Magnetic latching offers reliability and strength to make sure the latch is engaged. The gate should shut and latch securely from any open angle or force. 

Correct Height: The height of the pool safety gate and latch is also important to consider. The gate should be at least 48" (1.2m high) as measured from the finished ground level, to prevent young children from climbing over it. The latch release knob should also be positioned at a height of 60" (1.5m) so it is difficult for young children to reach. An internal side-pull latch should be at least 6" (150mm) below the top of the gate or any hand-hole. On a metal gate it should be covered with an 18" (450mm) -radius shield (when the gate is closed there cannot be any gaps greater than ½" (12.5mm) within this shield) to help stop children from putting their fingers into the gap to release the latch.
Durability: The latch should be made of durable materials that can withstand exposure to the elements, including sun, rain, salt, and wind. The latch should also be resistant to rust and corrosion. The gate latch should not be able to be shaken or jolted open or disengaged by using implements (e.g., garden sticks or tools). The MagnaLatch® from D&D Technologies meets all the above criteria, has been tested to over 1 million open- close cycles and has a limited Lifetime Warranty included.
Easy to use: The latch should be easy for adults to use, but difficult for young children to operate. A latch that requires two hands to open or a complex series of movements is likely to be effective in preventing unauthorized access to the pool area. The addition of a key lock offers even higher security. The MagnaLatch® from D&D also comes with an indicator that shows the locked/unlocked status. The latch release knob is ergonomically designed to be child resistant.

Compliance with safety regulations: It is essential to ensure that the pool safety gate latch complies with relevant safety regulations. In the United States, for example, pool safety gate latches must comply with the standards set by the Consumer Product Safety Commission (CPSC).
Choosing the right pool gate latch and hinges is essential for ensuring the safety of your family and friends.
The MagnaLatch® Series 3, ALERT and Side-Pull gate latches are all excellent options that offer reliability, durability, and security. When choosing a pool gate latch, be sure to consider factors such as the gate's location, gate material, the level of traffic, and the potential risks to determine which option is best for your pool.
The MagnaLatch® features a patented magnetic latching system that is impossible for small children to open. It is a lockable latch that can only be accessed with a key, providing an extra layer of security. The latch is adjustable, making it suitable for a wide range of gate sizes and materials, and it is made from high-quality, engineered, and tested materials that are resistant to harsh weather conditions.
The MagnaLatch® is easy to install and comes with detailed instructions, making it a popular choice among homeowners and pool professionals alike. It's also backed by a lifetime warranty, giving you peace of mind that you've made a smart investment in your family's safety.
When it comes to pool safety, it is always better to be safe than sorry. Investing in a quality safety gate latch like the MagnaLatch® is a small price to pay for the peace-of-mind that comes with knowing your loved ones are safe around the pool.
The TruClose® range of self-closing hinges are a popular choice for pool gates as they ensure the gate closes every time you enter or exit the pool area. These hinges are made with tension adjustability, so you can it according to your gate's weight to ensure a smooth closing action.
TruClose® hinges also come with an optional Hinge Safety Cap that prevents toddlers using the hinge as a foothold.
A pool gate is an essential safety feature for any pool and there is no room for compromise. Every year, there are tragic incidents of children drowning or sustaining injuries in backyard pools, which is why it is essential to take all necessary precautions to keep your loved ones safe.
Go to our pool safety compliance page