Secure Gates Install TruClose® Hinges on their Safety Gates D&D Technologies US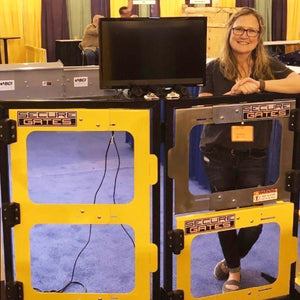 In a recent product testimonial Secure Gates were happy to endorse the reliability, strength and safety features of the TruClose® self-closing hinge range.
They state on their website: "We know that safety is a top priority for your company, let us help you protect your employees from entry and exit falls. With 14″ to 48″ of adjustability, Secure Gates offer the very best self-closing gates. Why? Because our gates cover the largest opening distance of any self-closing swing gate on the market and we have designed them to mount anywhere in minutes."
"At Secure Gates, we strive to offer a safety gate that will provide safer working conditions and meet OSHA requirements. We couldn't find a gate hinge that would stand up to the punishment of the environments that our gates are installed. I found the D&D TruClose® self-closing hinge and put it through punishing tests, and I could not break the hinge."
"We have been using the TruClose® hinges exclusively for over 3 years and have installed them on over 3,000 gates with no warranty claims or complaints on the hinges! The UV protection, stainless steel components, adjustable tension settings, and the non-corrosiveness of TruClose hinges are critical for the hinge surviving in the extreme environments that our safety gates are installed."
"Installing TruClose® hinges on all our safety gates provides me the peace of mind that no one will get hurt on those job sites."
Go to the Secure Gates US website