Child and Pool Safety: A Top Priority for Fencing Professionals - D&D Technologies US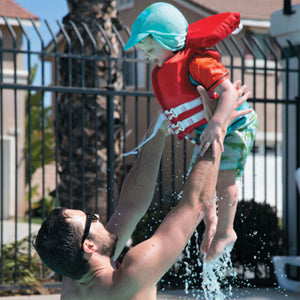 They may not be on site with tarps and whistles, but when it comes to pool safety, fence professionals are front line warriors.
BY AMY DREW THOMPSON
Drowning is still the leading cause of unintentional injury related death for children between the ages of 1 and 4. Shocked? Most people are, says Adam Katchmarchi, Ph.D., EMT-B and assistant professor and aquatics director for Indiana University of Pennsylvania. He's also the Executive Director of the National Drowning Prevention Alliance (NDPA). And he knows a thing or two about the value of a fence.
"It's one of the most important layers of protection for pools and spas, especially when it comes to preventing unplanned access to the water," he told Fencepost. "Door alarms, gate alarms and other security measures are important, but limiting access is the big thing."
Layers of protection. It's the term the NDPA and other organizations often use to break down their approach to safer water.
"It refers to the use of a multifaceted approach to water safety," Katchmarchi notes. "Layers of protection often include having proper barriers and/or fencing around the water, using self-closing, self-latching gates, teaching children and adults about water safety, teaching everyone to swim, only using properly tested and approved flotation devices, knowing the difference between safety equipment and toys, always having adult supervision, always using a water watcher when in the water, never swimming alone and ensuring you are prepared by knowing first aid and CPR if an emergency occurs."
Much of the latter, however, is of no use if the child (or adult — drowning is often in the top five or six causes of unintentional injury related death for people aged up to 55, as well!) was able to gain unplanned access to a pool or spa.
Enter the fence professional.
LATCH GAME
A fence is only effective, of course, if the gate and gate hardware are in good working order.
"A gate that doesn't close or latch properly because it has moved out of alignment, sags or drags along the ground is not only frustrating, but unsafe," notes Jeff Horton, marketing manager for D&D Technologies, which invented magnetic safety gate latches in the early 1990s. These latches use magnetic technology for reliable self- latching gate hardware that is also toddler-resistant.
Newer upgrades to this type of latch now have the capability to combine the latch with an alarm, using dual electronic warnings — flashing LEDs and audible alerts that sound if a gate is opened or left unlatched for longer than 15 seconds.
"You can see at a glance and hear from a distance if the gate is not physically locked," says Horton.
It's only one layer, though.
Door alarms, gate alarms and other security measures are important," says Katchmarchi, "but limiting access is the biggest thing."
GETTING IN AND OUT
Gates should not only be self-closing and self-latching, but should open outward — away from the pool. And, says Horton, the latch-release mechanism should be at least 60 inches above the ground-fixing surface.
What are the best materials? It generally comes down to customer preference, as many are strong enough and fulfill coding requirements. In keeping with Katchmarchi's "layers of protection" method, exterior, pool area fencing is best supported by an interior barrier of strong mesh with good coating to not only resist mildew and other types of staining, but ensure that the fence will hold its shape and easily support the weight of any child who leans against it.
No fence, inside or out, should present foothold or climbing opportunities.
"Vertical or horizontal air gaps between the pickets, balusters, palings or glass panels should not exceed 4 inches at any point," notes Horton.
HINGING ON SAFETY
So much attention is paid to latches, but hinges are no less important.
"It is crucial that pool gates are equipped with reliable, self-closing hinges so that the gate cannot be left open accidentally," Horton cautions.
The best among these are quick and easy to install, feature adjustable closing speed and are self-lubricating — ensuring that they are virtually maintenance-free. For optimal safety, D&D recommends hinges with hinge safety caps that create a slope so that a child can't use it as a toe-hold, and hinges with horizontal adjustability and 180-degree opening capability in one direction.
Versatility is also a top consideration for homeowners who want an aesthetically pleasing design that also suits their budget. A quality hinge that can be kept in a truck and commissioned for use on a wide variety of welded gates can be a valuable asset.
It's nice when customers — commercial or residential — need not sacrifice form for function, but at the end of the day, it's the latter that matters the most.
"While we don't have specific data that is able to show the number of drownings that are prevented by using layers of protection around the water… fencing is an important component to any water safety plan, especially for pools and spas," says Katchmarchi.
The NDPA, in fact, has begun a consumer recommendation program for products — and members of the AFA are most certainly welcome to participate. It's something along the lines of the 'Good Housekeeping Seal' for water safety, Katchmarchi explains. Their goal: to provide a consumer recommendation for qualified products that are proven to help reduce drowning.
He is intent on his communication to fence industry professionals.
"You are so important to our mission of reducing drownings and aquatic injuries," he says emphatically. "Don't downplay your role. You are helping us save lives!"