Make your Pool Safer this Summer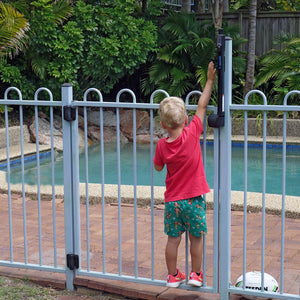 Parents: Here are 4 easy steps to making your pool safer for small children this summer
There's nothing quite like the fun and freedom that comes with owning a backyard swimming pool. But if not everyone is a confident swimmer, they can be dangerous, especially for small children.
According to the Centers for Disease Control and Prevention (CDC) drowning is the leading cause of death in children aged under 5, with nearly 300 drownings happening in backyard swimming pools and spas each year. Another 4,100 children suffer non-fatal drowning injuries and require emergency department treatment. Many of these accidents could be prevented with the implementation of number of easy steps to make your backyard pool more secure.

1. A four-sided isolation pool fence
Most pool codes in the United States require only a fence that surrounds the entire property perimeter to keep children from the neighborhood away from the pool. Although important for privacy and security between neighboring properties, a perimeter fence does little to protect children living in the home or their invited guests entering the pool area, which accounts for a staggering 97% of 0-4 aged back yard drowning victims.
Devastated parents saying they only took their eyes off their son or daughter for a moment. A back door was unlocked. Their child falls into the pool, unable to swim. Drowning takes moments and is usually silent. The trauma can last for a lifetime.
Looking abroad to the Australian experience—a nation with one of the highest swimming pool ownership rates in the world—a Royal Lifesaving Australia report shows that the introduction of pool fencing legislation in 1993 and the subsequent requirement for 4-sided isolation fences by 2010 led to a 67% decrease in the rate of unintentional backyard swimming pool drownings of children under the age of five. This accounts to almost 600 lives saved between 1993 and 2018.
Installing an isolation fence doesn't have to be an expensive exercise. It can be done at a reasonable price—generally between $1,500 and $2,500 including materials and installation; a small price to pay for the safety of loved ones. 

2. Gates stay shut
A study from Queensland, Australia found that in more than 1 in 4 instances where a 4-sided isolation fence was breached, entry was gained through a gate that had been propped open. It's all well and good for pool fences to be built with self-closing hinges and self-latching latches, but that all goes out the window if someone uses a rock or a towel to keep the gate open.
In an effort to prevent this issue D&D Technologies developed MagnaLatch® ALERT, a pool safety latch with alarms that sound loudly when a gate has been left open for longer than 15 seconds. The MagnaLatch® ALERT offers dual electronic warnings: bright, flashing LED lights, and audible alerts allowing you to see at a glance, and hear from a distance, if your gate is not secured. Priced at around $150 the latch is both easy to install and comes with a lifetime warranty.

3. Check your fence monthly
The other main way that isolation fences are breached is when the barrier has fallen into disrepair. It only takes a few minutes to check your pool fence and gate monthly, making sure the gate self-closes and latches properly. Check for loose fence panels and be sure there are no chairs or other objects that can be used for climbing are near the fence. Don't skimp on cheap hinges and latches—buy high-quality ones made specifically for swimming pools and with magnetic latches that close more reliably than the traditional gravity latch. Refer to the Check Your Pool Gate Safety Checklists for several items to check.

4. Consider a fence at least 55" tall
Most codes require a minimum fence height of 48", but the Queensland study we cited earlier also found that nearly 9% of drowning deaths among small children occurred because the child gained entry by climbing the fence.
In a 1979 study, a common 48" fence was able to be climbed by 18% of 3-year-old children. None of them, however, were able to climb a 55" tall fence. In addition to fence height, it's important to consider fence material and construction because some types of fences are easier to climb than others. The Consumer Product Safety Commission offers pool barrier construction guidelines here.

Additional Safety Steps
If you've decided to install and maintain a 4-sided pool isolation fence you've taken a significant step to safeguarding young children around your backyard swimming pool and you have incorporated one of the layers of protection. 
In addition to the tips listed above, here are the other layers of protection and a few other things to consider:
Supervision: Close, constant, and capable adult supervision anytime children are in or around water
Alarms: added to windows, doors, gates, as well as the pool gate to alert you of any unauthorized access. Think of alarms as your last line of defense to allow you to respond even quicker
Water Competency: Every child and adult should learn to swim in order to protect themselves in water
Emergency training: learn CPR, take a water safety course
Maintenance: Keep toys out of the pool area that might attract a child's attention
Education: Make sure your child understands the danger of entering the pool area without adult supervision
Finally, more information about backyard pool safety and drowning prevention is available from the following organizations: