Key lockable gate latches for Privacy & Security Gates?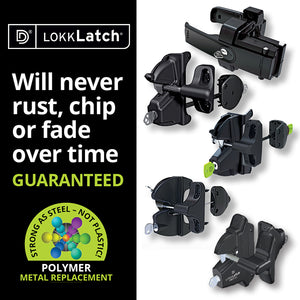 It's no secret we live in an increasingly safety and security conscious world. The home and business security markets are enjoying boom times. You only have to note the proliferation of home alarm systems, smart-phone apps, CCTV, digital and remotely controlled door locks, and privacy and security gates and lockable gate latches, to name a few.
More than ever, parents, families and the elderly want to know they live in a comparatively safe and secure environment, both within their community and in and around their home and yard.
Australian design and manufacturing company, D&D Technologies, became famous for inventing magnetic gate latches and polymer safety gate hinges in the early 1990s, but few people know it also invented double-sided, key-lockable gate latches in rust-free polymer housings.
D&D's most famous security latch is the LokkLatch® DELUXE Privacy & Security Gate Latch. It's a high-security latch suited to most common metal, vinyl and wood gates with square posts. Due to its high-grade keylock cylinder, a much-appreciated feature among homeowners, this premium latch can be rekeyed, by a locksmith, to match front doors and other common accesses.
The "double-sided" aspect refers to the fact the LokkLatch DELUXE can be operated and locked from both sides of the gate (fence). The two latch components – one mounted inside the yard and one on the street side – are connected by a sturdy polymer rod through the post to provide this high level of convenient access, security and peace-of-mind. Best of all most installations require only one drilled hole through the post, with most of the screws supplied being self-drilling.
The DELUXE is made from industrial-strength polymer housings and stainless-steel components to ensure the latch never rusts, stains or deforms. If that's not enough, this multi-award-winning latch, comes with a Lifetime Warranty.
The team at D&D Technologies is ever-mindful of its status as the world's most trusted gate hardware manufacturer. It's an attitude and passion to innovation and quality that runs from upper management down to factory floor.
There's a reason D&D Technologies' company tagline is "The world's most trusted gate hardware." Everything it designs and manufactures is based on the end-user's perception of trust, safety, quality and innovation.
Check out D&D's complete range of gate latches, locks and hinges at www.ddtech.com.