Increase the Value of Your Home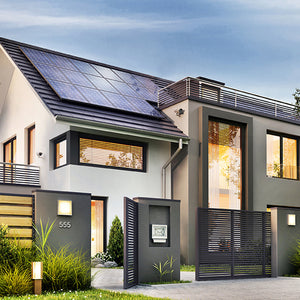 How Can Gate Hardware Increase the Value of Your Home?
When it comes to securing your property, the fence and gate are often the first lines of defense. A fence is only effective, of course, if the gate and gate hardware are in good working order.  A well-built gate with quality gate latches, hinges, and locks can increase the security of your home, providing peace of mind and adding value to your property. Here are some reasons why:
Deter Criminals

:
A strong and secure gate can deter criminals from attempting to break into your home. Thieves and burglars will look for the easiest target, and a gate that is difficult to climb, cut or force open can discourage them from targeting your property.


Prevent Accidents

:
If you have a pool in your backyard, a pool gate is a must to ensure safety. A pool gate with proper hardware and hinges will help keep children and pets from accidentally falling into the pool, which can save lives and prevent accidents.


Enhance Durability

:
Gate latches, hinges, and locks are essential components of a durable and long-lasting gate. Quality materials and craftsmanship can help your gate withstand harsh weather conditions, wear and tear, and daily use without compromising its performance and appearance.

A gate with quality gate latches, hinges, and locks can not only provide enhanced security but also increase the curb appeal of your property.
Create a Beautiful Entrance

: A well-designed gate with quality hardware can create a beautiful entrance to your property, adding to its overall aesthetic appeal. Whether you opt for a classic, modern, or ornate style, a gate that complements the architectural style of your home can create a cohesive and visually stunning look.

Provide Customization Options

: Gate latches, hinges, and locks come in a variety of styles and finishes, giving homeowners the ability to customize the appearance of their gates to match their personal preferences and the style of their homes. This customization can make your property feel more personalized and unique, increasing its overall appeal and value.
Quality gate hardware can also make it easier and more convenient for you to enter and exit your property while also providing safe access for family members, visitors and service providers. Here are some additional reasons why gate hardware can increase the value of your home:
Ease of Access

: A well-designed gate with quality latches, hinges, and locks can make accessing your property more convenient and efficient. Automated gate systems allow you to control entry and exit with the touch of a button, eliminating the need to manually open and close the gate. This can be especially useful during inclement weather or when you have your hands full.

Enhanced Safety and Security

: Quality gate hardware can provide enhanced safety and security for your property, ensuring that only authorized individuals have access. This can provide peace of mind for homeowners and potential homebuyers, making it a desirable feature that can increase the value of your property.


A sturdy and secure gate can prevent intruders from entering your property, keeping your family, pets and belongings safe. Moreover, it can prevent unauthorized access to your pool area, reducing the risk of accidents and drowning.
However, safety is not just about preventing intrusions or accidents. It is also about ensuring compliance with local regulations and standards. By installing gate hardware that meets the safety standards, you not only help ensure the safety of your family and guests, but you also add value to your property. Prospective buyers are always on the lookout for properties that comply with safety regulations, especially if they have young children or plan to have a pool.
D&D Technologies is the world's largest manufacturer and innovator of premium gate hardware, and our range of quality products has been protecting families for over 35 years.  D&D Technologies produces over 350 safety, hi-performance, durable, easy to operate gate hardware products. D&D hardware features modernized, contemporary designs to complement any fence and gate design.
D&D hardware is designed to protect your loved ones by safeguarding your swimming pool, home, garden and perimeter gates and fences. Products include MagnaLatch® magnetic pool and safety gate latches, TruClose® adjustable, self-closing gate hinges, LokkLatch® gate latches, SureClose® the commercial grade hinge & closer, ConcealFit the hidden closer & hinge set, Shut It® heavy-duty metal industrial hinges and Stainless Steel hinges and latches.
Check out our socials