Gate & fence safety & security during the lockdown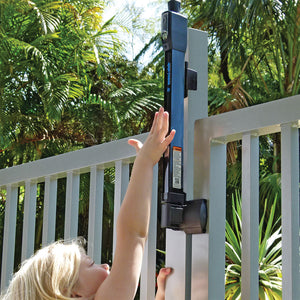 By: Phil Doyle - D&D Technologies
With so many of us working from home due to COVID-19, new light is shining on safety and security around the house, pool and yard. In these unpredictable times, the entire family is hanging out inside and outside the home. Since the threat of a lockdown was first suggested in March, do-it-yourself equipment sales have skyrocketed. Some envisioned what was to come, and how they might be housebound for weeks or even months, and they began gearing up to tackle several household repair and maintenance projects that have previously been neglected. After all, working from home is not just a pleasant distraction from commuting to work, but also an opportunity to work on a few chores throughout the day. When it comes to residential safety, one of the classically-neglected-but-important challenges is maintaining and rejuvenating fences and gates. Let's face it, most houses have various forms gates: front gate, side gate, pool fence, garden gate, pet corral or perimeter fence. Often a problem gate or collapsing fence simply requires a bit of TLC to make them function as intended, while others require more of an overhaul by installing new latches, hinges, and panel repairs.
Fences and gates offer protection or resistance from intruders, also in preventing kids and animals from getting onto the street and from toddlers getting into the pool area. Simply, gates and fences are a critical part of home safety and security. Let's never forget that drownings in backyard pools are still one of the greatest causes of accidental death in children under five years of age! One company that has seen sales of its gate safety products soar during the prevailing 'lockdown' is D&D Technologies. D&D is dedicated to the design and manufacture of quality, state-of-the-art gate latches, locks and hinges. Many homeowners know them as those "tall, black magnetic latches" – the MagnaLatch® Child Safety Gate Latch – that are present on so many gates around swimming pools, childcare centers, playgrounds and schools. D&D invented magnetic gate latches and polymer gate hinges in the early 1990s, and today the multi-award-winning company exports its Australian-made gate hardware around the world. Its MagnaLatch® quietly revolutionized the safety and effectiveness of child safety gates. No longer did pool owners and homeowners need to struggle with troublesome mechanical latches that would jam, rust and sag. Today there's a MagnaLatch® to fit every child and pet safety gate imaginable. The latest model of MagnaLatch® is the company's time-honored Top Pull pool gate latch model with built-in audible and visual alarms – the MagnaLatch® ALERT, with its simple beeps and flashing LED lights. In other words, it's a latch-alarm, all in one. The best part? Anyone with a few common tools can install it. Contrary to what the concept may infer, this battery-operated latch requires no wiring or electricians, just the appropriate installation procedure. Each time the gate (i.e. latch) is opened, a simple beep will be heard, alerting those in and around the house that someone is at the gate. It's only if the gate is left open (think pool gate danger) for 10 seconds that a second beep will sound. And if the gate is left open for more than 15 seconds the unit begins to ramp into alarm mode, where a consistent alert will ring out, and LED lights will flash until the gate is properly latched.
Fueled by the early success of its life-changing MagnaLatch®, D&D Technologies promptly conceived a "controversial" polymer gate hinge, the TruClose® Child Gate Safety Self-Closing Hinge. Why controversial? Polymer was not synonymous with strong, reliable gate hinges in the early 1990s. It took a while for the ground-breaking design to catch on, but as many will concede polymer gate hinges are now the norm and considered by most fencing professionals as the ultimate child safety gate hinge. The fact is the TruClose® concept overcame all the age-old problems suffered by traditional mechanical hinges – rusting, binding, sagging, staining and chipping. D&D has designed and manufactured a complete range of other popular gate latches, locks and hinges, including the general-purpose LokkLatch® gate latch, a higher-security/privacy LokkLatch® DELUXE and a handle-styled LokkLatch® MAGNETIC Gate Lock. In recent times it's introduced a range of commercial-style, hydraulically operating gate hinge-closers under the SureClose® banner, plus a range of no-fuss industrial metal gate hinges under the Shut It® brand.