Top Benefits of Shut It Gate Hardware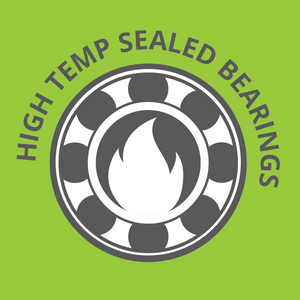 Top Benefits of Shut It Gate Hardware –
From High-Temp Bearings to Adjustability
When it comes to providing convenient and safe access to your commercial facilities, pools and homes, we rely on high-quality fences and gates to give us peace of mind. Inferior gate hardware is the Achilles' heel to any fence hardware system. One of the issues with these inferior products is they require frequent maintenance (e.g. greasing every 90 days) that is routinely neglected, which leads to friction that can cause failures and expensive repairs.
Shut It® gate hardware is the solution, we designed and built our Shut It®
gate hardware line to be maintenance-free and last over 1 million open/close cycles.  Every Shut It gate hinge is machined to tight tolerances and built using industrial grade materials and state-of-the-art designs that enable them to withstand the tests of time and extreme use. Key secrets to longevity include sealed, high-temperature ball bearings, precision bushing design, and adjustability.
Sealed High-Temp Sealed Bearings
One of the things we love most about our Shut It® gate hinges is that they require no greasing. You read that right - no greasing, ever.  Install Shut It hinges and enjoy the years of quiet, closes and don't worry about maintenance or upkeep to keep them performing at the highest level.  In 2019 we further upgraded these bearings to withstand the heat encountered in powder coating.  This means you won't have to remove the bearings beforehand, making it even easier to get a high-quality, consistent finish.
Precision Spacer
Friction is the enemy. Not only does it cause wear and tear, but it also makes a gate harder to open and close.  Shut It hinges are virtually friction-free because our precisely machined hinge spacer (bushing) distributes the load directly onto the center ring of the sealed ball bearings.  There is no grinding of parts whatsoever, only the rolling of the ball bearings as the hinge opens and closes.
Adjustability
Most Shut It® heavy duty gate hinges are designed with horizontally adjustable yokes, making installation easier and more flexible than ever. And, with a hinge body that fits both flat and round surfaces, you'll have more options when it's time to install. Shut It® gate hinges are designed to give you a perfect installation, every time. 
An overall better gate
When you install Shut It® gate hardware, you can rest easy knowing that your gate is a step above the rest. Not only do we manufacture our gate hardware with the hardest steel in the industry for top-notch durability, we also leverage the power of zinc electroplating to ensure long-lasting protection against rust and corrosion. 
Whether you're a contractor, engineer, artisan or otherwise, Shut It® gate hardware offers the best on the market when it comes to industrial-grade heavy duty hardware. To view the complete line of our Shut It® high-performance gate hardware, visit www.ddtech.com.