The Gate Protecting Your Kids From Drowning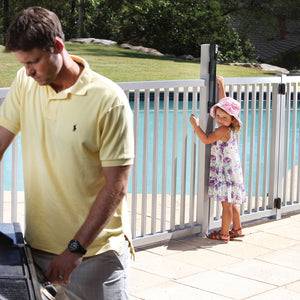 Making sure young children can't gain unsupervised access to the family pool is the most important thing you'll do today.
One of the most dangerous places in your home is the family pool. For children under the age of 5, drowning is one of the leading causes of death, and most drowning incidents occur in home swimming pools.
"Drowning doesn't look like what you think it does," says Blake Collingsworth, president of the National Drowning Prevention Alliance (NDPA). "You think you might hear someone call for help, but that's not how it works. You go into a panic mode, and you're more worried about getting air rather than using your air to make a sound. That's why they call it a 'silent death.'"
Layers of security
Many parents think installing fencing around the pool is sufficient, but in order for fencing to be optimally effective it must fully enclose the pool. Properly maintained gates with functioning, adjustable, self-latching gate latches, and self-closing gate hinges are also critical. "According to research in Australia, approximately 30 percent of all toddler drownings occur because gate hinges and latches are not regularly checked or are faulty," notes David Calabria, president and CEO of D&D Technologies, a leading manufacturer of high-performance gate hardware and co-founder of the NDPA. It is reported that another 30 percent gain access through a gate that has been propped open and forgotten.
Calabria suggests that parents physically check pool gates regularly — and definitely before pool season begins. This means ensuring the gate closes and latches from any position by testing it. If it doesn't, the hinges and latch, or even the gate or fence, may need adjustment. Self-closing hinges like D&D's TruClose® self-closing (adjustable-tension) hinges or SureClose® hydraulic self-closing hinges are key. The tension of the hinges should be adjusted to ensure that they overcome resistance from the weight of the gate and wind.
The other critical aspect is the latch. "The most effective latching mechanism for swimming pool safety gates is a magnetic latch that has horizontal and vertical adjustment features," Calabria adds. D&D's MagnaLatch® Safety Gate Latch uses magnetic technology to produce a latch that is toddler-resistant, safe, and reliable — when properly maintained and adjusted.
Beyond the fence
Collingsworth, who founded the Joshua Collingsworth Memorial Foundation after losing his own son in a tragic pool accident, endorses self-closing hinges and magnetic latches. "D&D makes a great product," he says. "I have three of them on my gates at home."
Collingsworth notes that D&D manufactures a gate latch model that includes an alarm. The MagnaLatch® ALERT from D&D, for example, has built-in visual and audible alarms that are activated if the gate is not latched after 15 seconds. Other technologies, like cameras with sonar alerts and Bluetooth-connected apps that can alert you through your phone when activity is detected around the pool, can also help keep everyone safe.
Just as important, Collingsworth advocates education and mindfulness. "Getting your children water-capable is a huge part," he says.  Another aspect of pool safety is ensuring an adult is always paying attention. "We really promote water-watcher tags. You can take turns passing this lanyard around and just saying, 'Hey, you wear this and for the next 15 minutes you're not on your phone, you're not reading a book, you're just sitting there counting heads and keeping an eye on the kids."
Calabria is just as passionate about this issue. "Due to our involvement in the industry, we have met many parents on our travels who have tragically lost children due to a backyard pool drowning," he says. "Reducing toddler drownings became D&D Technologies' core mission." 
Calabria's closing advice is clear. "Ultimately there is no substitute for adult supervision," he says. "As a parent, moving into a new home with a swimming pool or installing a new pool comes with the potential for a lot of fun for the family — but an enormous responsibility is also attached."


To get the message out, D&D and the NDPA have established June as Check Your Pool Gate Month and offer a safety checklist for parents and other homeowners. D&D Technologies gate hardware can be purchased on Amazon or at Home Depot or Lowes.