Steel & Fence Supply can rely on D&D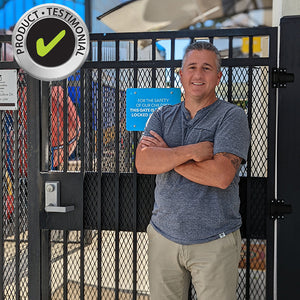 Steel & Fence Supply has been distributing D&D hardware for over 22 years.
As Northern California's leading fence supplier to both fence professionals and end user customers, they count on Steel & Fence Supply to provide only the best in gate hardware solutions. Steel & Fence Supply does stock gate hardware from all the major manufacturers, but when a customer needs a hinge they can count on to get their job done, D&D's gate hinges are the ones they can trust.  
The custom gate fabrication solutions that are offered at each branch of Steel & Fence Supply often require hinges to come pre-installed and ready for high use applications, like sports stadiums, corporations, schools and municipalities. D&D's SureClose ReadyFit and Shut It gate hinges are perfect for these applications. Customers know they can rely on Steel & Fence Supply to provide the best products and it is easy to do because of the quality hardware that D&D manufactures.
D&D's residential hardware makes it easy for the sales team at Steel & Fence Supply to locate the perfect gate hinge for customers at every price point and for every application. D&D's TruClose self-closing hinges and MagnaLatch safety gate latches are the products customers choose for securing their property and providing safety around their backyard pools. D&D hardware is backed by a strong warranty and the capability of every latch and hinge is very clear, so customers shopping at Steel & Fence Supply know exactly what they are getting and what to expect from each D&D hinge or latch.
D&D's customer service supersedes the standards of the fence industry and exemplary service is what the Steel & Fence Supply experience is all about.
D&D takes care of their customers, from major distributors to the end user, they are eager to help. Thank you D&D Technologies for leading the gate hardware industry and for the long standing partnership with Steel & Fence Supply!
Peter Farrell III
Owner, Steel & Fence Supply

San Jose:
1436 Terminal Ave. San Jose, CA 95112  PH: (408) 573-3779
Morgan Hill:
640 E Dunne Ave., Ste. A Morgan Hill, CA 95037  PH: (408) 573-3778