SURECLOSE® CONCEALFIT WINS GOLD GOOD DESIGN AWARD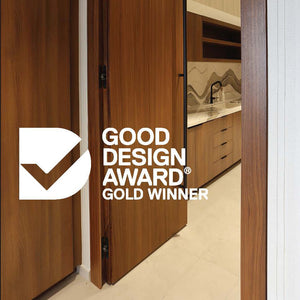 Congratulations on being recognised as a Good Design Award Gold Winner in the 2021 Good Design Awards. Projects recognised at this level are considered stand-out projects within the category and this is an achievement you and your team should be incredibly proud of.
WHY ARE CONCEALFIT HINGE/CLOSERS BETTER?
• Clean openings for an elegant, distinctive, and timeless look
• 3-dimensional positioning for optimal integration
• Adjustable closing speed, latching speed and backcheck
• 20-minute UL10C and cUL10C fire rating
• Suitable for ADA use
• For left or right-handed doors
• Ideal for internal and external flush doors
• Independently tested to over 500,000 open/close cycles
FROM A RECENT INSTALLATION...
"The project door requirements called for a clean, modern look combined with strong acoustical performance. The design partnership of AMDG Architects and Eastlake Studio developed a concept that required the wood doors to be flush with the face of the jambs so that the entry to each room reads as one large wood panel. Finding the right hinge and closer to execute the design was critical: they needed to be strong, hidden, and be highly adjustable so that they could be fine tuned in the field to align with the jambs and provide a tight seal on the door.
"If we had not found the SureClose® ConcealFit, we would not have been able to meet our client's request. The door closer and hinge system are working flawlessly, and we will certainly spec out ConcealFit on future projects."
We reviewed and tested several combination of hinges and closers and were unable to execute the design in a satisfactory manner, until we discovered D&D Technologies' SureClose ConcealFit. It was the one product that satisfied all of our requirements - and did not require separate hinges and closer.
The SureClose system allows for adjustment in three dimensions: horizontal, vertical, and in and out. It also features controls for closing speed, latching speed, and back check. All of these controls allowed the installer to hang the door and make the necessary adjustments to achieve our objective in the field. As a result, we were able to achieve our design objectives and the client loves their new space."