Eliminate Callbacks with Shut It hardware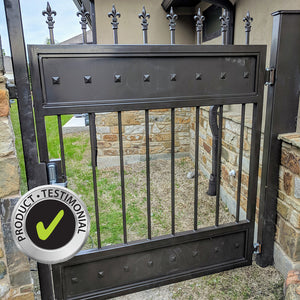 At H&R Operators we specialize in commercial access control gates and pride ourselves on always using the best products and the quality of our work. Shut It hardware just works, I install a hinge or wheel and I don't have to worry about it. 
Here's a story:  I had installed a competitors gate wheel on a heavy gate and was heading home.  It was an early evening on a Friday when I received a call that the wheel had broken and I had to return to fix it, and being hundreds of miles from our office I did not have a replacement wheel with me. I remembered that I received a sample 6" Shut It wheel and had it in my truck. I replaced the broken wheel with the Shut It wheel and have never had to return.
The adjustability of the Shut It hinges provide the versatility needed to adapt to a project requirement change and make installations quick and easy.
With the Shut It hinge we have the ability to kick up or tilt a gate, shrink an opening and no cutting of the gate is required. It makes for a safer installation. They're the best.
With the moisture and dirt in the areas we install hardware, there is no better proving ground for hinges.  And D&D products have stood the test of time.
Hard to find a company the produces a consistent product year in and year out that you can take out of the box, install it and have zero issues. D&D's Shut It products are that product.
D&D has the best products and best value for our money.  They keep producing hardware, I'll keep buying.
Rustin Raney, Owner
H&R Operator Services, Inc.
281-485-4477
rraney@hroperators.com
www.hroperators.com