How to install a gate latch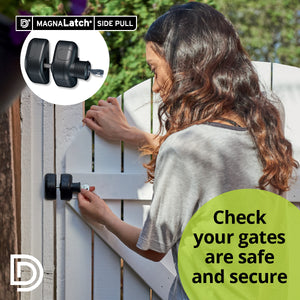 There are many types of gate latches to suit different gates around homes, swimming pools, gardens, back yards, childcare centres and perimeters.
So before you ask "How do I install a gate latch?" you first have to determine what sort of gate you want and what you need it to do. Is it just a regular gate made of metal or wood that simply provides access to and from your house or garden area? Or is meant to be a self-closing, self-latching child safety gate (think swimming pools) that must protect precious small children or your beloved dog? Or perhaps it's a combination of both – a regular front entrance gate that not only provides a basic level of security but also prevents children or pets accessing the dangers of a busy street.
In recent times gate latch technology has improved significantly. In fact, before the invention of the Australian-made MagnaLatch® magnetic child safety gate latch by D&D Technologies in the 1990s gate latch technology really hadn't changed much in hundreds of years. Before the adoption of magnetic latching and the introduction of rust-free polymer housings there wasn't a lot that could be done to improve basic, mechanical (metal) latches.
To evaluate what gate hardware might be needed, let's examine the common types of gate gates and materials that are common to today's homes, pools and businesses.
Gate materials
Most gates are made of either steel (iron), aluminium or wood. Then there are vinyl gates made from PVC materials that are popular in North America.
The most recent trend in gate materials is glass, where a glass panel is retained by metal or polymer gate latches, locks and hinges. These are becoming popular in up-market dwellings requiring a minimalist look and where maintaining views is important.
Front entrance gates
This is your typical metal or wood gate seen at the front of so many houses around the world. The usually only require general-purpose gate latches and plain-pivot (non-self-closing) hinges.
Most of these gates are low-profile (1–1.2 metres high) and carry non-locking metal or polymer gate latches and a pair of hinges. However, in a world of increasing security many front entrance gates are moving higher, to what are called 'Privacy & Security Gates'. These are typically 1.5–1.8m high to provide visual privacy and they carry a higher level of key-lockable security. The locks on these gates can often be rekeyed by a locksmith to match front doors and the like.
A very popular gate latch for this purpose is the LokkLatch® DELUXE Privacy & Security Gate Latch. It's a very sturdy and reliable key-lockable latch made from polymer housings and stainless-steel components, so it won't rust or stain.
Where small children and animals need to be protected front entrance gates will need to be self-closing and self-latching.
Side gates & garden gates
These are similar to many front entrance gates in that they usually entail simple metal or wood gates with general-purpose gate latches and hinges.
The ideal gate latch for this purpose is the LokkLatch® General-Purpose Gate Latch. This is a key-lockable latch made from polymer housings and stainless-steel components, so it won't rust or stain. It carries a simple wafer key, so can be locked for convenience, but is not considered high security.
In other cases, homeowners may choose to have higher security and privacy gates, with key-lockable latches to match. In this case the higher-security LokkLatch® DELUXE is the perfect option.
Swimming pool gates
These gates should always be the safest and most secure gates around the home...or resort, apartment block or motel etc. In countries like Australia and the USA toddler drownings in backyard swimming pools is either the leading, or one of the leading, causes of accidental death in children under 5 years. Such drownings are considered preventable, so vigilance, safety and security are essential.
The safest gate hardware is magnetic gate latches and adjustable, polymer gate hinges. Super-reliable and quality made magnetic gate latches such as MagnaLatch®, and polymer safety gate hinges such as TruClose®, were invented in Australia with "preventable" backyard pool drownings in mind. Both products carry a lifetime warranty. Toddler drowning is a problem in any region of the world heavily laden with backyard pools.
But wait, there's more. In recent years a new MagnaLatch® ALERT has been added to the line-up. This is an electronic version of the top-selling MagnaLatch® which features in-built audible and visual alarms, which are only set off if the gate doesn't latch correctly or is propped open. Best of all this latch is very easy to install; the alarms are battery driven so the installation doesn't require any wiring or electricians. It simply mounts/screws to the fence and gate just like any other MagnaLatch® and requires no exotic tools.
Pool gates are usually 1.2–1.5m in height, so that they can't be climbed and so the latch release mechanism is out of reach of toddlers.
Installing your gate latches & hinges
D&D Technologies is noted in the fencing industry as the designer and manufacturer of the world's most trusted gate hardware. The company has been a leading innovator of gate latches, locks, hinges and accessories for the past 30 years and boasts many design awards for it innovation.
Nearly all of D&D Technologies' gate latches, locks and hinges are designed for quick and easy installation. A lot of thought has gone into the placement of screws and other fixings so that the products are mounted strongly to gates of all materials. Most of the screws required for mounting to gates are supplied with the products, and in many instances the screws are "self-drilling", meaning they are designed to be installed without the need to drill holes first.