NEW PRODUCT RELEASE – LOKKLATCH® DELUXE S3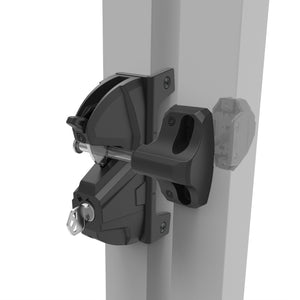 D&D Technologies announces the release of LokkLatch® DELUXE  Series 3 Privacy & Security Gate Latch
HUNTINGTON BEACH, CA:  D&D Technologies, the world leader in high-performance gate hardware, has introduced the LokkLatch® Deluxe Series 3 to its versatile line of LokkLatch® gate latches.  The new LokkLatch Deluxe Series 3 is the premium privacy and security gate latch with simplified through-post installation, operates, locks and unlocks from both sides of the gate and is easy to install. Designed for commercial or residential applications it is the perfect high-level complement to D&D's popular LokkLatch® line that includes the general purpose LokkLatch and the LokkLatch 3 Plus residential security gate latch.  
New look and styling. The new contemporary body design and styling of the latch housings imparts a progressive blend of sleek edges and soft-but-confident design lines.  The LokkLatch Deluxe Series 3 with a reinforced body and side fixing legs is notably stronger and tougher than previous designs.
New, integrated fitting jig. The Mounting Bracket that secures the latch to the fence post also serves as the 'fitting jig' (template) to provide significantly faster and easier installation. The innovative fitting jig naturally aligns the drill-hole on both sides of the post so that the hole is level at all times.   Installation requires only one drilled hole.
New snap-fit Connector Rod. The snap-fit Connector Rod joins the two latch housings with a press-fit connection in the push-button to prevent rods from falling out during installation or dropping down the center of hollow posts. This greatly simplifies installation.
"We are excited to introduce such an improved and innovative gate latch that features several advantages to make installation quick and easy," says Jim Paterson, D&D's senior vice president of sales and marketing. "The improved strength of the new latch makes it perfect for the higher security and privacy applications."
The LokkLatch Deluxe Series 3 is available in black or white, keyed alike or keyed-different versions and is backed by a limited lifetime warranty. It also can be vertically and horizontally adjusted for the perfect gate-to-latch alignment, can be installed in a left- or right-handed orientation and is constructed of industrial-strength UV stabilized metal replacement polymer and stainless steel components that won't rust, bind, sag or stain.
For more information about D&D Technologies' new hardware solutions or other D&D products, visit www.ddtech.com,  e-mail info@ddtechusa.com or call toll-free at 1-800-716-0888.
About D&D Technologies
D&D Technologies is the recognized leader in safety and high-performance gate hardware, providing the broadest range of gate hardware for every application.  D&D Technologies produces over 300 gate hardware products and has over 30 years of experience in the gate hardware industry.  Products include MagnaLatch® magnetic pool and safety gate latches, TruClose® adjustable, self-closing safety gate hinges, LokkLatch® gate latches, SureClose® commercial-grade hinge & closer, Shut It industrial hinges and Stainless Steel latches and hinges.  D&D's diversity of products continually set new standards in design, performance, craftsmanship and innovation–tied together by a top level of quality, service and a limited time warranty. D&D products are rust free and consistently exceed all relevant safety barrier codes around the world for the residential, commercial and industrial markets.