D&D join forces with Codelocks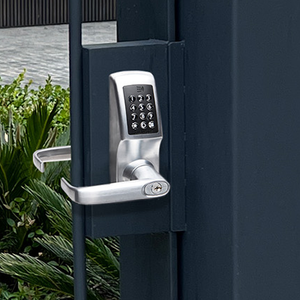 D&D Technologies, the recognized leader in safety and hi-performance gate hardware globally with the broadest range of gate hardware for every application, and Codelocks Inc., an innovator in access control products and keyless locking systems for gates and doors, have joined forces to expand the Gate Solutions by Codelocks range of coded locks to the fence industry.  
The Gate Solutions product line provides both coded and electronic locking access control solutions specifically designed for swing gates. The Gate Box Kit, an industry exclusive, provides all the components needed for gate and fence installations – no need to source the lock, gate box, latch bracket and mounting hardware separately. Gate Panic Bar Hardware Kits are also available with all the required components, including the Codelocks Panic Bar, Panic Trim and accompanying panic hardware components. This solution is ideal for any restricted area that will benefit from controlling access including commercial or residential environments like schools and colleges, hospitals, hotels and backyards. 
Installing D&D Technologies gate hardware along with Codelocks coded locks provides the ultimate safety and security system. D&D has several durable hinge solutions, including TruClose® adjustable, self-closing gate hinges, Shut It heavy-duty metal industrial hinges, SureClose® the commercial grade hinge & closer, ConcealFit the hidden closer & hinge set and Stainless Steel powder coated hinges.
Codelocks extensive range of products include the DDCL200, DDCL400, DDCL500 and DDCL600 light-duty to heavy-duty mechanical locks that cover a wide variety of applications and feature tubular latches, surface deadbolts and easy to set entry codes.   Electronic locks and Smart locks offer quick programming, free access capability and a broad range of access methods.  
All Codelocks products feature their unique dual spindle design contributing to the locks' strength and durability and are suitable for metal, wood, vinyl and chain link gates.  The ANSI Grade 1 stainless steel panic bar is UL listed for an exterior rating.  D&D products come with a Limited Lifetime Warranty, in addition, Codelock products come with a Limited Lifetime Warranty on mechanical locks and a 2-Year Warranty on electronic locks.
By combining D&D's expertise in gate hardware with Codelocks' experience in electronic access control, the two companies are poised to revolutionize the way that people secure their homes, businesses, and other properties. With an emphasis on convenience, ease of use, and robust security features, the new products and services that emerge from this alliance are sure to be game changers in the industry.